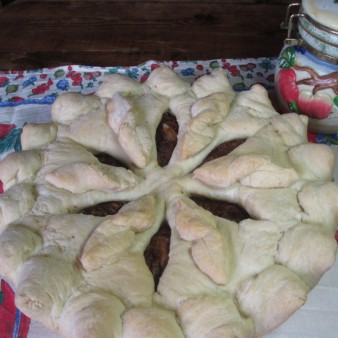 Recipe information
Servings per container:
8
Cooking
1 . Stage
Prepare the groceries.
2 . Stage
Dissolve the yeast in warm water, mix it with two cups of sifted flour, and put the brew in a warm place.
3 . Stage
After about 30-40 minutes when the batter has risen, add salt and knead well. Then add the butter and the remaining flour, knead the dough and put it in a warm place to rise.
4 . Stage
While the dough is rising, fry the cabbage. Heat oil in a frying pan, put finely shredded cabbage, add chopped onion, salt, pepper, and at the end of cooking add finely chopped garlic and sugar. Leave it to cool.
5 . Stage
Now back to the test. This is what it looks like after one hour.
6 . Stage
Divide the dough into two unequal parts.
7 . Stage
Roll out the large portion into a circle about 0.5 cm thick, or according to the diameter of the mold in which you will bake the pie and form the sides. I had a 25 centimetre diameter cake tin. Place the dough in the tin, form the rims and place the filling.
8 . Stage
Roll out the smaller piece of dough so that it only covers the top of the pie. Divide the circle into segments and make a slit in each in the shape of a petal.
9 . Stage
Take out the cut out pieces and carefully transfer the top to the cake. To prevent the dough from stretching or tearing, you can either roll it up on a rolling pin or sprinkle it with flour and fold it into an envelope. Spread the top on the pie, adjust if necessary, make decorations from the cut pieces by twisting them, and place them between the slits, slightly wetting the joint with water. Notch the edges of the pie and seal, wrapping to one side.
10 . Stage
Butter the cake, let it stand for 15 minutes and bake it in an oven preheated to 200 degrees for 35-40 minutes. To prevent the edges and the top of the pie from drying out, it is advisable to put a container of water in the bottom of the oven.