23.09.2022
40
Recipe information
Cooking
1 . Stage
KEFIR. The time is specified without taking into account the preparation of kefir. In a clean, sterilized jar, pour 1 liter of milk at room temperature ( 22-24 C), pour 1 bag of starter, stir thoroughly until the complete dissolution of the starter, 2-3 minutes. Close the jar. In a thermos - yogurt pot pour boiling water, up to the mark, put the jar in it, close. Forget for 6-10 hours.
2 . Stage
After 7 hours the kefir is ready, thick and delicious. Let cool completely, put it in the fridge.
3 . Stage
PIE. Turn on the oven to preheat. Take 1 cup of kefir, add baking soda. Stir to mix.
4 . Stage
Add sugar, an egg - one whole egg and egg white. Lightly beat.
5 . Stage
Add the cognac, sifted flour and food coloring. Lightly beat with a mixer or wire whisk on medium speed.
6 . Stage
Prepare the mold, grease it with butter. Pour the dough, a couple of times gently tap the form on the table. Place in a hot oven and bake at 180 degrees, until "dry splinters", about 25-35 minutes. It is better to take a large diameter mold, so that the biscuit did not come out high. I use a special mold for baking open pies (crostat) with a slightly protruding center.
7 . Stage
While the biscuit is baking, wash and dry the fruit. By the way, you can take the fruit according to your taste.
8 . Stage
Hold the finished biscuit in the mold for 5 minutes, then gently remove it. Let cool.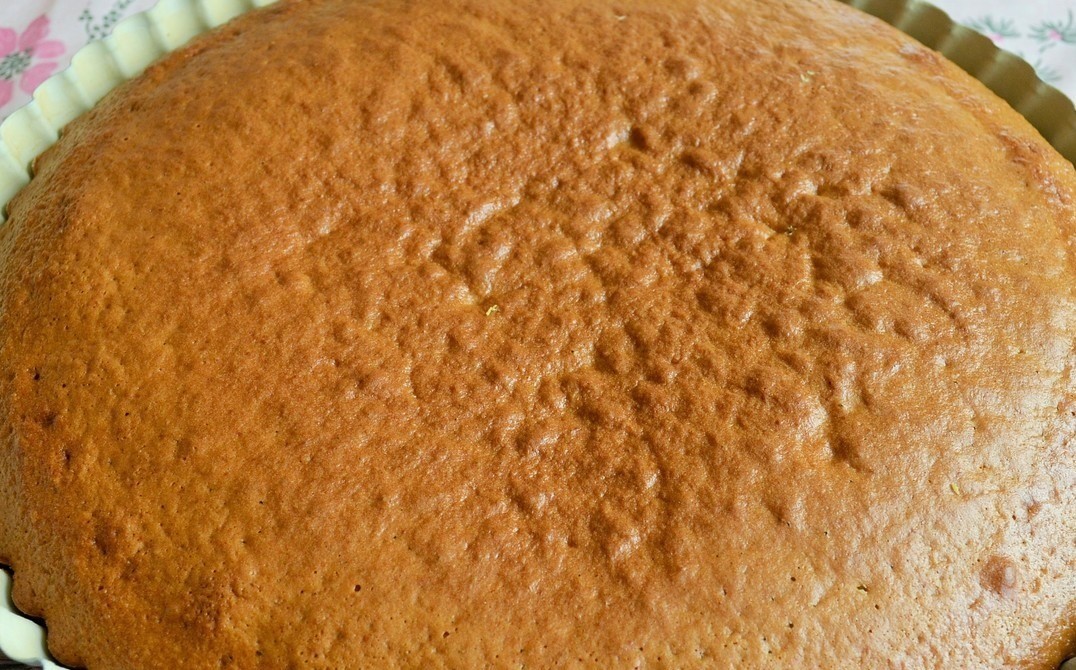 9 . Stage
The baked goods in this form need to be flipped over. Already beautiful! If you are using an ordinary mold, you have to carefully cut out the middle by 1 cm, leaving the edge.
10 . Stage
Mix powdered sugar with 2 tablespoons of kefir.
11 . Stage
Pour 2/3 of it on the biscuit, distributing it on the inner circle.
12 . Stage
Arrange fruit as desired. Add the green dye to the remaining 1/3 of the powdered and kefir mixture and mix. Pour over the fruit and decorate the cake with chocolate shavings.