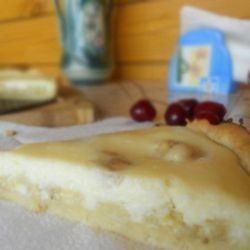 06.04.2022
315
Recipe information
Cooking
1 . Stage
For the test, beat the egg with sugar, add soft butter, baking powder and flour. Knead well and knead the dough.
2 . Stage
Lubricate the baking dish with a little oil and lay out the rolled dough forming the sides. Put the sliced bananas on the dough and place in the refrigerator.
3 . Stage
Beat the egg with sugar, add sour cream and beat the flour again.
4 . Stage
Pour the pie with the resulting cream and bake at 180 degrees for 20 minutes.
5 . Stage
The banana pie is ready, you can serve both warm and cold.
6 . Stage
Bon Appetit!!!