21.09.2022
9
Recipe information
Cooking
1 . Stage
I would like to point out that this amount of ingredients is for 2 rolls! If you want to make 1 roll, then the number of ingredients should be halved. But I think you don't have to do that, because the pastry is so tender and delicious that your family and friends will surely like it. Separate the whites from the yolks. Beat the whites, gradually adding the sugar (1/2 cup). Then whip until stiff peaks.
2 . Stage
Crush the yolks with the rest of the sugar until white.
3 . Stage
Combine the egg white and yolk mass.
4 . Stage
Gradually add the flour (1.4 cups). Knead the mixture gently from bottom to top.
5 . Stage
Layer the baking tray with baking paper, place the prepared biscuit dough. Flatten the layer of dough.
6 . Stage
Place the baking tray in a preheated oven at 190-200°C. Bake until light and creamy.
7 . Stage
Turn the baking paper over with the biscuit, carefully remove the parchment from the biscuit.
8 . Stage
While the biscuit is warm, roll it up. Let cool.
9 . Stage
For the cream: Beat the sour cream (500 g) for 2-3 minutes with sugar (adjust the amount of sugar to taste). Then add the package of vanilla sugar, thickener for sour cream. Whisk for 2-3 minutes more.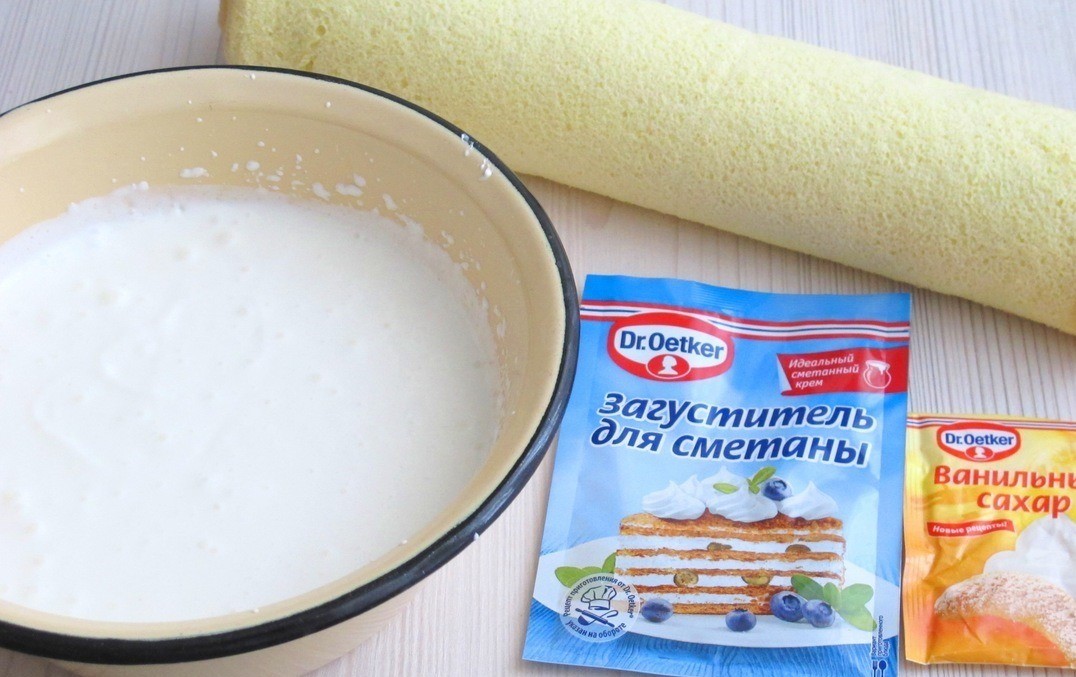 10 . Stage
Roll out the biscuit sheet, apply the sour cream.
11 . Stage
Roll up the roll. Place the roll in the refrigerator for 1-2 hours.
12 . Stage
Sprinkle the cooled roll with powdered sugar, decorate as desired with lace or colored sprinkles.