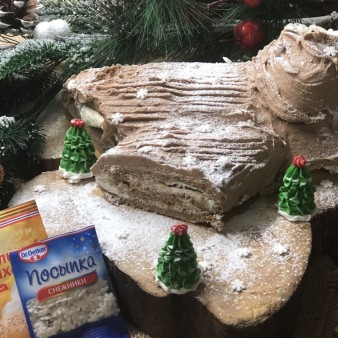 21.09.2022
13
Recipe information
Servings per container:
6
Cooking
1 . Stage
All ingredients
2 . Stage
For the dough, we need to separately beat 4 whites + 75g of sugar and 4 yolks +75g of sugar. Whites whip until peak, yolks until lightened. Carefully and little by little we add the whipped whites to the yolks and stir with a spatula from top to bottom.
3 . Stage
Sift flour 60g, starch 60g.
4 . Stage
And 2 tbsp. cocoa powder, mix gently with a spatula from top to bottom until smooth
5 . Stage
Put baking paper on the baking tray and grease with melted butter. Spread out the dough and flatten it with a spatula. Place in an oven preheated to 170-180 degrees for 10-15 minutes. Take out of the oven and remove the baking paper, use a towel to roll up the biscuit and let it cool.
6 . Stage
For the filling, we take two whites and 150 grams of sugar + 1 bag of vanilla sugar and send it to a water bath until the sugar dissolves.
7 . Stage
Remove and send the whites to whip until peaks, meanwhile begin to whip 200g of butter at room temperature.
8 . Stage
Mix whites and butter, add 15 ml of coffee and 15 ml of rum. The cream is ready, you can chill it in the freezer. We fill the biscuit with the cream inside, roll it back up and put it in the freezer for 15-30 minutes. After the freezer, cut off the ends of the roll at a 45 degree angle to form knots, use the cream to attach to the desired places and return to the freezer to set.
9 . Stage
For the top cream, I use the same cream as for the filling, as there is enough, but I add 200g of melted chocolate.
10 . Stage
The Christmas log is ready!