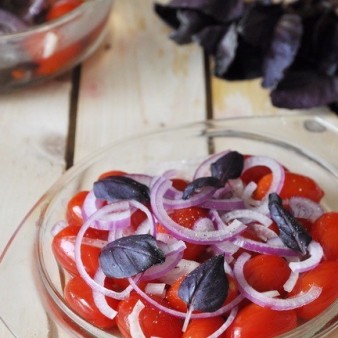 20.09.2022
7
Recipe information
Servings per container:
4
Cooking
1 . Stage
Prepare the marinade. In a saucepan mix salt, dry basil, chili peppers, vinegar, water, add universal brown sugar. Put on the fire and bring to a boil.
2 . Stage
Cherry tomatoes are washed.
3 . Stage
Put the tomatoes in a convenient pot (I have one for the microwave oven), pour the slightly cooled marinade.
4 . Stage
Add half-ringed onions and minced garlic, close the pan.
5 . Stage
Let the tomatoes in the marinade cool down and put them in the fridge overnight.
6 . Stage
Take out the ready-made pickled tomatoes. They are very tasty even as they are, but I suggest making a salad with them.
7 . Stage
Cut red onion in half rings, cut off the basil leaves.
8 . Stage
Take the tomatoes out of the marinade, pour olive oil, sprinkle with red onion, basil and pepper mixture. Serve the salad chilled. Bon appetit!