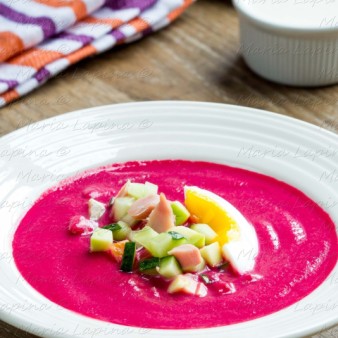 21.09.2022
9
Recipe information
Servings per container:
2
Cooking
1 . Stage
So, let's start making homemade yogurt. It's very easy to make and requires a minimum of effort, and it's incredibly tasty. There is no way it compares to store-bought yogurt.
2 . Stage
In order to make yogurt, it is necessary to maintain a certain temperature, and here I am helped by a thermos - all that is required is to pour a bag of sourdough into a container,
3 . Stage
Add a liter of milk.
4 . Stage
Shake well for a couple of minutes.
5 . Stage
Pour boiling water into a thermos up to the mark.
6 . Stage
Put the container in a thermos, close and forget about it for 6-10 hours.
7 . Stage
Peel the beets, pour water on them and cook them until they are ready for about an hour. Salt at the end.
8 . Stage
Dice a ripe avocado, fresh cucumber and smoked chicken. Salt the cucumber and sprinkle the avocado with lemon juice so it doesn't darken.
9 . Stage
The beets, along with the broth in which they were boiled, whipped in a blender.
10 . Stage
Add the homemade yogurt and place in the refrigerator for at least 30 minutes.
11 . Stage
Яйця відварюємо всмятку, розрізаємо на четвертинки. У тарілку наливаємо остиглий суп, викладаємо по центру нарізані овочі і четвертинку яйця.