10.09.2022
19
Recipe information
Servings per container:
8
Cooking
1 . Stage
Grind the chickpeas in a blender. Peel and grate the potatoes on a fine grater - so the mass is juicier and the pieces do not get caught. Mix the chickpeas and potatoes well. It should be a wet soft porridge, otherwise the patties will not stick. If you get too much liquid, you can add 1-2 tbsp. of sifted flour for stickiness. Season with salt.
2 . Stage
With wet hands we make patties. I baked them in an air grill, so I put them on racks on parchment. You can fry them in a pan with a little vegetable oil under a lid, or you can bake them in the oven. You can bake them a little at first so that the mass doesn't "set," and then pan-fry them until crispy. If you dry them out a little too much, you get pretty good cookies))
3 . Stage
I baked in the aero grill on all three racks at 235 degrees for 15 minutes on medium fan speed. Then I swapped the patties with the racks - put them from the bottom on the top and vice versa, turned them on the other side and baked the same way for another 15 minutes. I got almost cookies this time)
4 . Stage
Now we make hamburgers for the husband. Cut the buns in half and lightly coat each half with ketchup. Put a few slices of pickle on the bottom.
5 . Stage
Then we put a leaf of lettuce and a chickpea patty on top, wrapped in a slice of bacon or something similar (I have jamon). Then we put a thin slice of tomato and a piece of melted cheese and cover the top of the bun.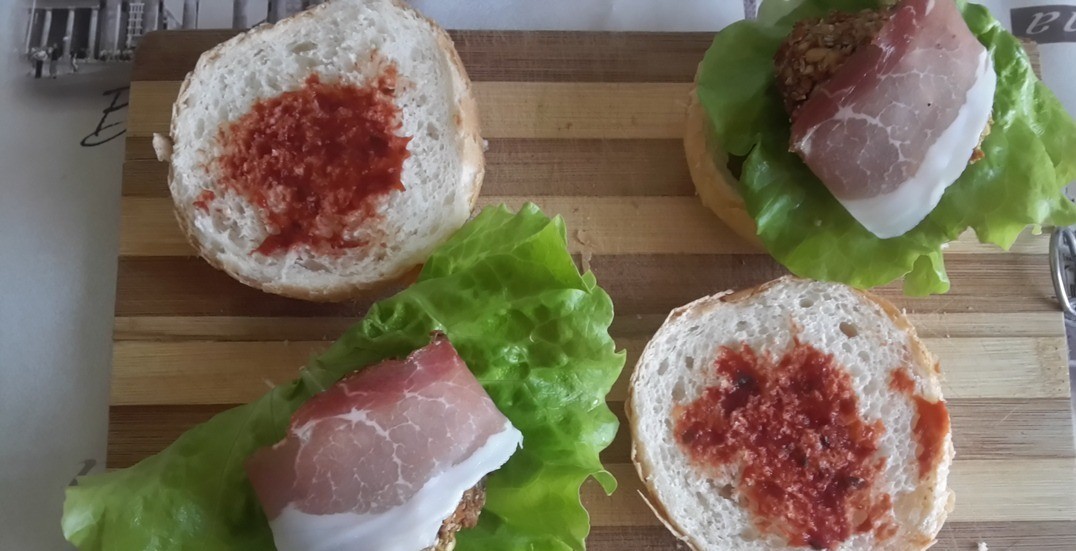 6 . Stage
That's it, the burgers are ready! I tried to take a close-up picture so I could see the insides, but it still didn't work.
7 . Stage
Now we make rolls. It's even easier. We take a sheet of pita bread or flatbread and generously sprinkle lettuce (I have iceberg) on half of it. Then we put 1-2 chickpea patties cut in half and dress with lean mayonnaise. Cover it all with the other half of the pita leaf and roll up into a tube.
8 . Stage
That's it! The rolls are ready!