23.09.2022
23
Recipe information
Servings per container:
4
Cooking
1 . Stage
Rinse the quinoa thoroughly. Cereals can be bitter because the seeds are covered with a layer of saponins, so it is better to soak for a few hours and rinse before cooking. Pour water 1:2, bring to a boil and cook over low heat for 15 minutes.
2 . Stage
Remove from the heat and leave for 10 minutes with the lid on.
3 . Stage
Add mustard and olive oil, mix thoroughly. Let cool and add the egg white.
4 . Stage
The resulting mass is distributed over the form, forming the sides (it is better to take 22-24 cm in diameter, I have 20 cm, for me the sides seemed a little thick). On the bottom of the form put parchment paper. Leave for 1 hour.
5 . Stage
Meanwhile, let's prepare the stuffing. Chop the champignons and onions, fry them in olive oil until the onions are cooked.
6 . Stage
In the original recipe we used goat's cheese, in my case it was Adygean cheese. Shred the cheese and mix it with the onion-mushroom stuffing. Salt and pepper to taste, add your favorite spices, such as cumin.
7 . Stage
Stir the cream well with the eggs
8 . Stage
And add to the filling.
9 . Stage
Pour the filling into the prepared mold, and place cherry tomato slices on top
10 . Stage
And small pieces of cheese.
11 . Stage
Bake in a preheated (180 degrees) oven for about 30-35 minutes.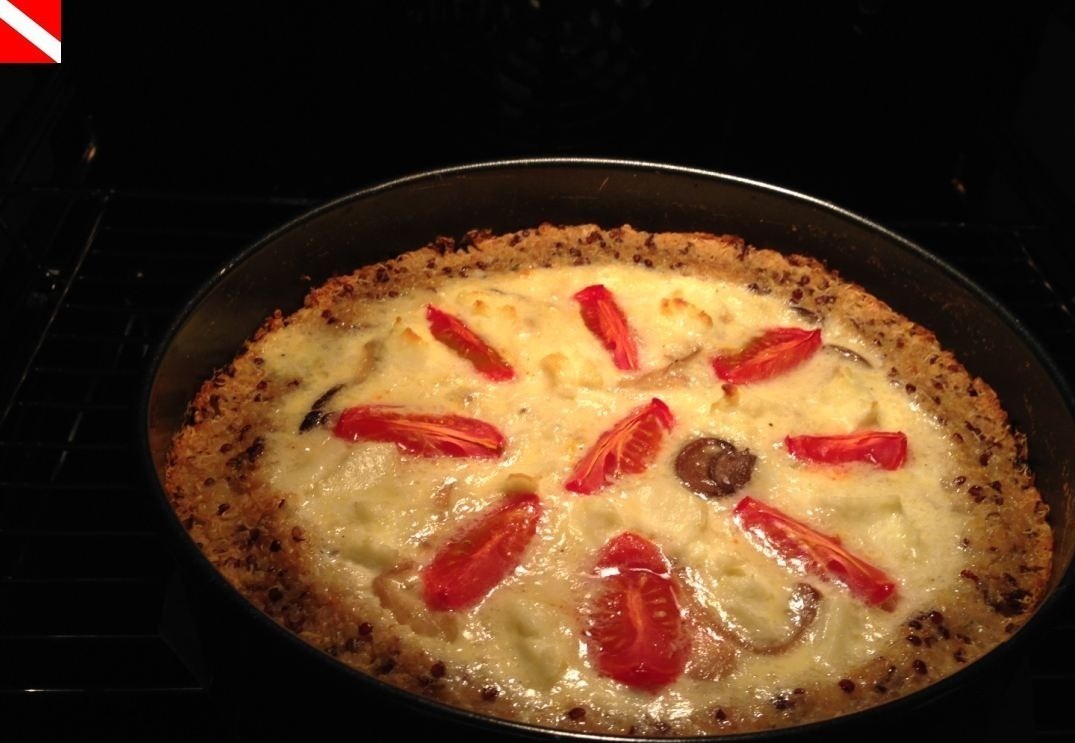 12 . Stage
Now wait for the quiche to cool and serve! The next day it cuts perfectly and the filling holds its shape.