Cooking
1 . Stage
The first thing to do is to prepare the filling for the cream. Ingredients for it. Squeeze 225 ml of juice from 4-5 large tangerines.
2 . Stage
Pour the sugar and starch into a saucepan and stir. Add a little juice, stir until smooth. Pour the rest of the tangerine juice, add the lemon juice, zest and put on the fire. Cook until it boils and thickens, stirring constantly. As soon as bubbles appear, remove from the heat, cover with clingfilm and leave to cool.
3 . Stage
While the mandarin jam cools, prepare all the products for the biscuit.
4 . Stage
Separate the eggs into whites and yolks. Add a pinch of salt to the whites and start beating, gradually adding half the sugar until stiff peaks. Add the remaining sugar and vanilla to the yolks. Also whisk thoroughly until the mass increases in size and turns white. Then add to the whipped yolks zest and sifted starch, each time thoroughly kneading with a whisk.
5 . Stage
Add some whites to the mixture and mix gently with a whisk. Pour the mixture into the remaining whites and stir. Then add vegetable oil in batches, each time kneading well with a whisk. This is how fluffy the dough turns out.
6 . Stage
On a parchment-lined baking sheet (you can grease the parchment with a little oil), pour out and evenly distribute the batter. Bake in a preheated 180-200 degrees oven for about 15-20 minutes (use your stove as a guide, it took me longer). The size of my baking tray is 32*20. Then let the biscuit cool completely. Peel the tangerines for the filling.
7 . Stage
Whip the chilled cream to firm peaks, add the tangerine filling and whip a little more with a mixer.
8 . Stage
Now you can assemble the roll. Spread some of the cream on one side of the biscuit. Step back a little from the edge and place the tangerines one by one. Smear a little cream on top as well.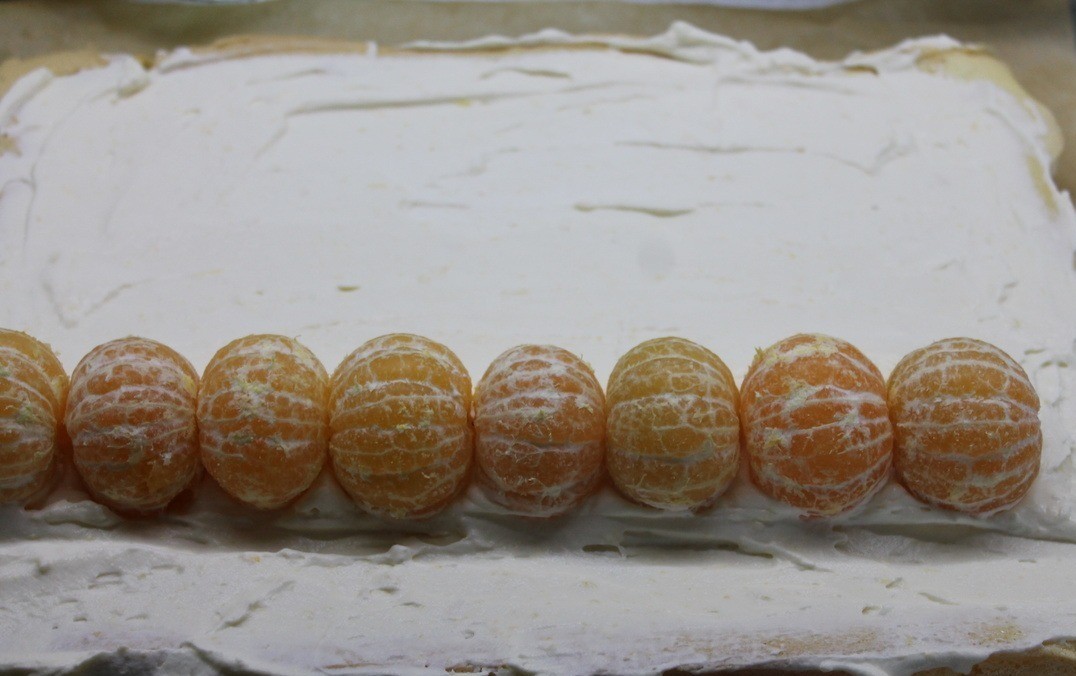 9 . Stage
Gently roll up the roll. Cover the top with cream and leave in the refrigerator for 20 minutes.
10 . Stage
Then transfer the remaining cream to a pastry bag with a shaped nozzle and decorate the roll at your discretion. I decorated it with mandarin slices and sprigs of spruce, which I previously washed well and scalded with boiling water.