Ingredients for - Wicker with apples and nuts
How to cook deliciously - Wicker with apples and nuts
1 . Stage
Dough. In a container, where the dough will be kneaded, pour milk, water, add salt, sugar, melted butter and finely grated raw carrot (the weight of peeled vegetable is given). Stir.
2 . Stage
Then pour in the sifted flour and yeast.
3 . Stage
Knead the dough. The dough is quite dense, but soft, not steep. Place it in a bowl greased with vegetable oil, cover with clingfilm and leave to rise in the heat for 50-60 minutes.
4 . Stage
In an hour.
5 . Stage
Stuffing. Roast the walnuts in a pan and chop them. The crumbs should not be coarse, but not too fine. Remove the skin from the apples (the weight of peeled fruit is given), remove the core and cut into small cubes. Pour over the starch, add the orange zest and mix.
6 . Stage
Place the dough on a work surface lightly dusted with flour, knead, and divide into two equal parts. Roll out each one into a sheet about 15x40 cm, 5-7 mm thick.
7 . Stage
Step back 1.5-2 cm from the edges and spread nuts evenly on each piece. Sprinkle the sugar on top. We do not like too sweet baked goods. If you have a sweet tooth, I suggest increasing the amount of sugar...
8 . Stage
Arrange the apples evenly on top of the nuts and sugar.
9 . Stage
Gently roll the dough up the wide side, NOT tightly!
10 . Stage
Carefully staple the seam and the ends of the rolls.
11 . Stage
Well fasten the ends of the two rolls and loosely intertwine them with each other.
12 . Stage
Carefully transfer the wicker to a baking sheet lined with parchment (grease with vegetable oil), a silicone mat or a Teflon sheet. Cover with a cloth or linen towel and leave to rise for 20-25 minutes. Sprinkle the wicker with sugar before placing it in the oven.
13 . Stage
Bake the product in a preheated 180° oven for 40-45 minutes (be guided by your technique). If the top of the wicker will be very browned, cover it with foil 15 minutes before the end of the baking process.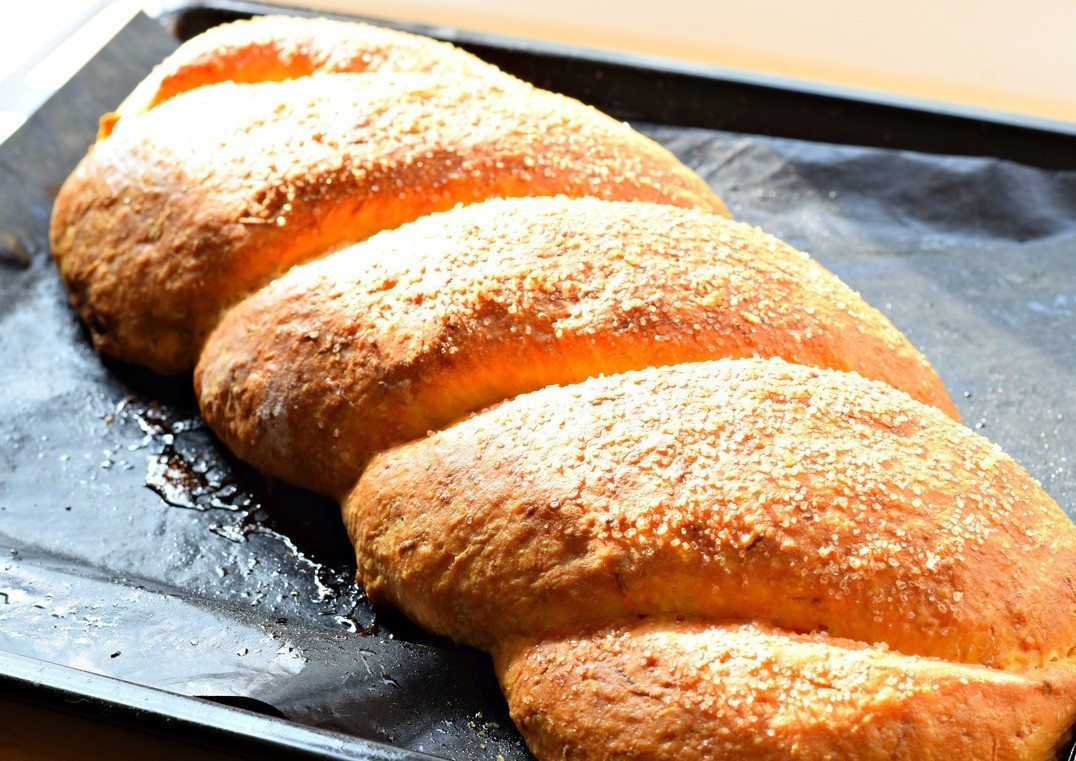 14 . Stage
Transfer the finished product to a rack and cool slightly. All done!