Ingredients for - Ranunculus with rice, sorrel and egg
How to cook deliciously - Ranunculus with rice, sorrel and egg
1 . Stage
Prepare the dough: Pour the yeast into the warm whey (temperature 35-40 grams), add sugar, let it activate (until a cap - foam). Sift the flour, pour the whey and yeast into it, add the egg, melted butter, you can add half the portion of vegetable oil, half the butter), salt.
2 . Stage
Knead the dough. Well kneaded dough should be homogeneous, without lumps, well come off the hands and walls of the dishes. Sprinkle the dough with a little flour, cover the container with a towel, and put it in a warm place for fermentation. During fermentation, yeast mushrooms decompose sugar, releasing carbon dioxide. Too much carbon dioxide slows down the fermentation process, so the dough is kneaded a couple of times (if the flour is weak gluten - once, with high - 2-3 times, I knead 2 times). The first kneading after 1 hour, the 2nd after 40-50 minutes, after another 40-50 minutes the dough is ready to work (in total it takes about 2 hours and 30 minutes to raise the dough).
3 . Stage
Knead it on the table one more time and you can form patties.
4 . Stage
Dice the hard-boiled eggs not finely. Chop the sorrel with a knife. Mix with rice. Pepper to taste. I do not add salt. Add sorrel to taste. If there is too much, the filling will be very sour and it will override the flavors of rice and egg.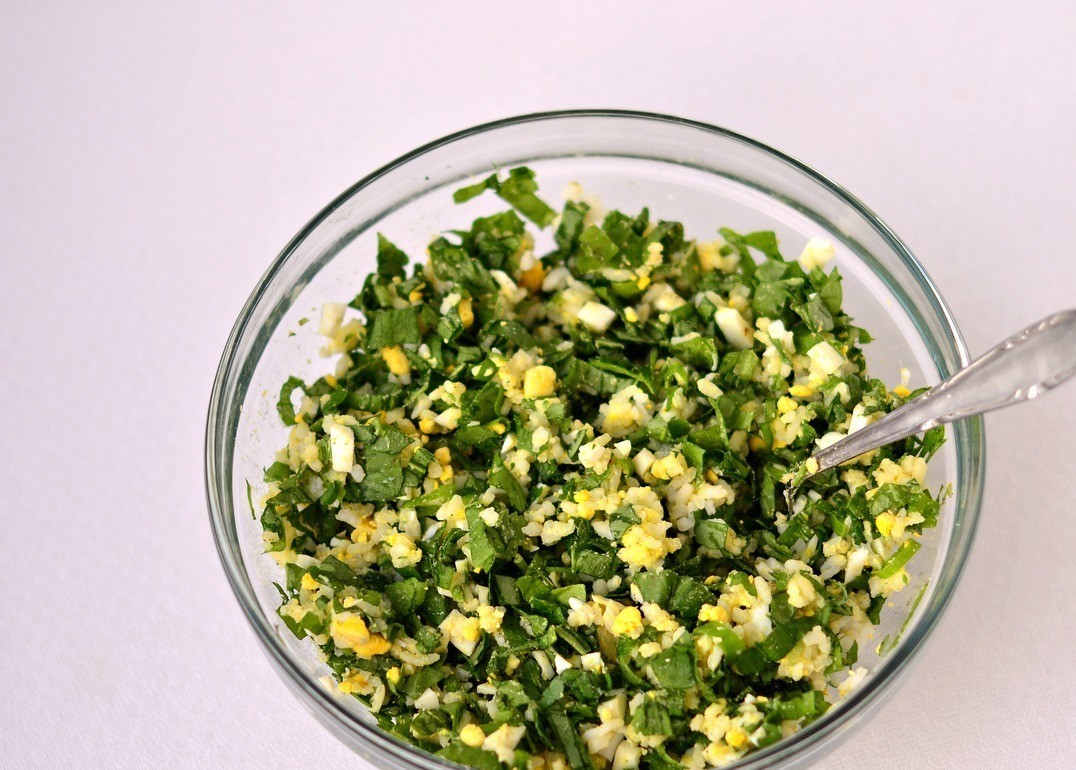 5 . Stage
Roll out part of the dough into a layer about 4 mm thick. With a glass (large in diameter) cut out blanks. Make cross cuts, about 3 cm on each side, you get 4 segments. In the center of each piece put the filling - about 2 tsp. The first segment as if wrapped around the filling, then the 2nd segment, etc., as shown in the photo.
6 . Stage
Place the patties on a lined baking sheet and brush with a mixture of 1 egg yolk and 2 tsp water. Let stand in a warm place for 30 minutes. Bake at 180 g for about 25 minutes until golden brown. Bon appetit!