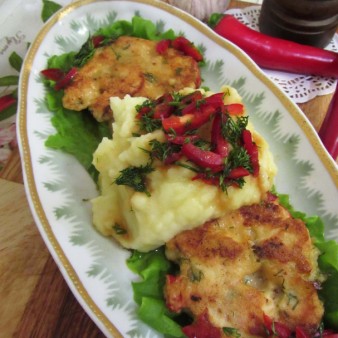 22.09.2022
10
Recipe information
Servings per container:
6
Cooking
1 . Stage
I only managed to get two blue shark steaks. Not enough for six tasters. Very little. And then in the fridge I looked at the leftover coho salmon... The understanding that it would be something chopped appeared almost immediately... But first the shark should be prepared. Soak it in cold water with vinegar (I had rice vinegar) for at least an hour... Otherwise its, well, very specific, taste will overpower all the rest... After soaking the shark has one unpleasant quality - although the meat continues to hold its shape, it becomes watery. I can't make classic brisole with such a product. Well, then there will be cutlets!
2 . Stage
We dial up the ingredients...
3 . Stage
And let's start creating! Cut the fish into large cubes.
4 . Stage
Peel the chili peppers from the seeds and finely chop them. Finely chop the dill.
5 . Stage
Add soy sauce and rice vinegar.
6 . Stage
Add mayonnaise, semolina. Salt, pepper and nutmeg. Let the mince stand for 10-15 minutes. Usually semolina is enough for such cutlets, but I had to add another spoonful of flour. After all, the shark was too watery.
7 . Stage
We fry our cutlets in vegetable oil for 5 minutes on medium heat on each side until golden brown.
8 . Stage
That's how beautiful we got...
9 . Stage
Boil potatoes in salted water until tender. Knead them up. Add heated milk and butter. A classic and very tasty mashed potatoes...
10 . Stage
All that remains is to assemble our dish. We need a sauce. What goes best with the spicy and tangy flavor of the cutlets and the soft, creamy taste of the mashed potatoes? Well, sour cream, of course... Lemon? Perfect. Soy sauce? Also good... Sesame oil, rice cider... I think it's almost perfect...
11 . Stage
Also chili peppers and dill! Now it's perfect.
12 . Stage
Spread on a plate, pour the sauce and enjoy! Bon appetit!