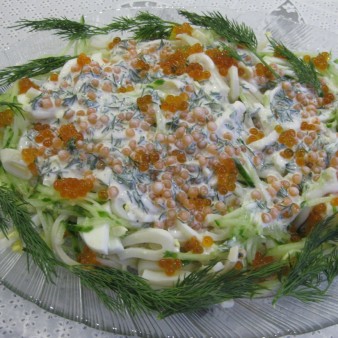 15.09.2022
21
Recipe information
Servings per container:
4
Cooking
1 . Stage
It's very simple, even step by step almost), - squid, eggs and cucumber cut into julienne (all the components should be about equal proportions)
2 . Stage
For the sauce, pour the cream into a saucepan, and over low heat bring it almost to a boil!
3 . Stage
Add the caviar, stir, and hold for two more minutes
4 . Stage
Add finely chopped dill, pepper, salt (if necessary), the sauce should thicken a little, turn off the heat and cool. Stir the salad gently and put it on a dish, pour the sauce on top and decorate with caviar and herbs, if desired.