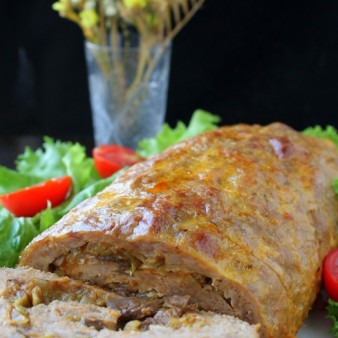 15.09.2022
19
Recipe information
Cooking
1 . Stage
Add the egg and bread soaked in water to the mince. Stir to mix.
2 . Stage
Then add onion and garlic, finely chopped, soy sauce and pepper. Season with salt if needed. Stir and set aside.
3 . Stage
For stuffing #1: Fry mushrooms with onions until golden, salt and pepper. Let cool.
4 . Stage
For stuffing #2: Shred cabbage, cut onion in half rings, peppers in julienne. Roast until lightly golden.
5 . Stage
Then add tomato paste diluted in water, paprika and salt. Stew until the liquid evaporates. Allow to cool.
6 . Stage
Place the stuffing on clingfilm, flatten it with your hands.
7 . Stage
On top lay the stuffing from the cabbage and sprinkle with cheese grated on a coarse grater.
8 . Stage
Next, distribute the mushrooms and onions.
9 . Stage
Use clingfilm to roll up the short side of the roll. Grease the top with egg white.
10 . Stage
Grease the foil with 1 tbsp of vegetable oil, put the roll on it and wrap.
11 . Stage
Bake at 180 degrees for 20 minutes, then open the foil, brush liberally with egg white, increase the temperature to 200 degrees and bake for another 30 minutes. Serve warm or cold. Bon appetit!