Ingredients for - Cabbage casserole in a pan
How to cook deliciously - Cabbage casserole in a pan
1 . Stage
Shred the cabbage finely and not very coarsely.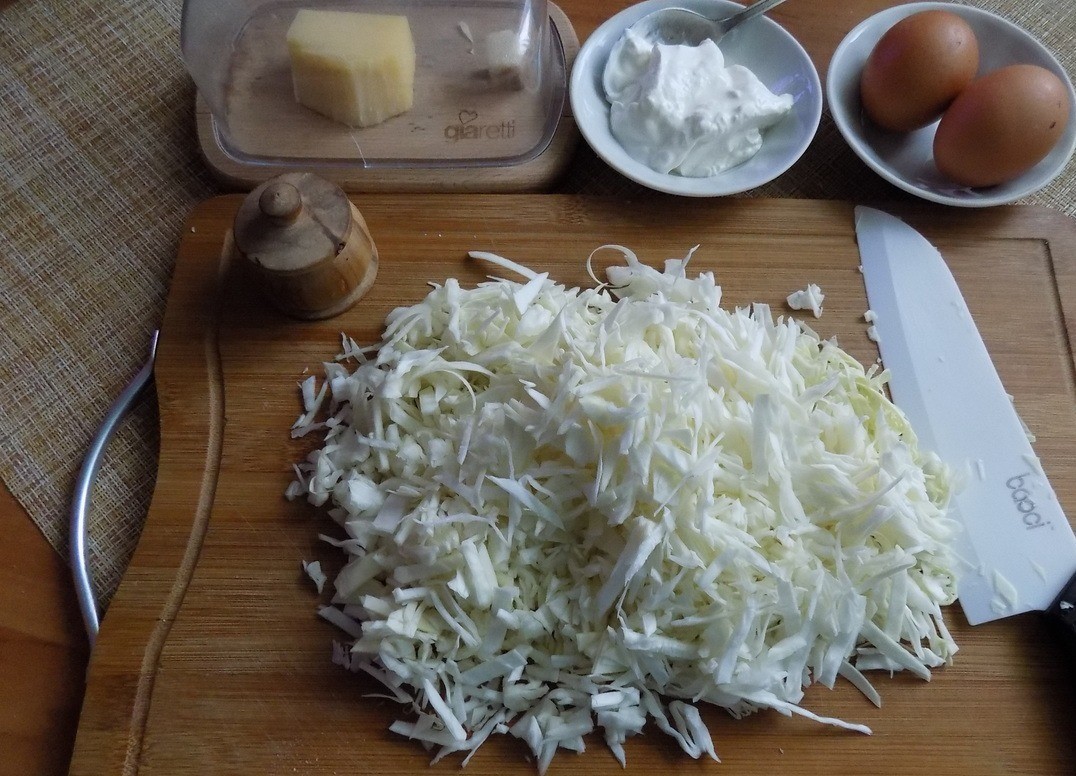 2 . Stage
Put it in a bowl and salt it. Crush it with your hands so that it gives juice.
3 . Stage
Squeeze the juice with the palm of your hand and put the squeezed cabbage into another bowl. That's how much juice I squeezed. We won't need it!
4 . Stage
Crack the eggs, put the sour cream. Stir with a fork. Grate the cheese on a medium grater.
5 . Stage
We send the cheese into the mixture. With a silicone spatula I spread it evenly over the mixture. Ready everything to send the mixture to the pan.
6 . Stage
A non-stick frying pan is best. If you do not have a non-stick pan, you can use any pan, but you will need more oil. I heated an oiled frying pan with D-24 cm and put the mixture. Using a spatula, spread it out evenly. Turn down the heat a little more than minimum.
7 . Stage
I put the lid on and fried until the casserole was firm. I checked it with the same silicone spatula.
8 . Stage
Take off the pan, leave the fire on and take a suitable plate with a diameter equal to the diameter of the pan. The casserole should be checked with a spatula to the center. It is not sent somewhere in the pan. We cover the pan with a plate and turn it so that the casserole is in the plate. Then we put it back in the pan, tipping it on the uncooked side. Put the pan back on the fire and bring the casserole to perfection, covering it with a lid.
9 . Stage
Done. Cut into pieces. I cut it into 4 pieces. To serve, put two pieces on a plate.
10 . Stage
Serve. I sprinkled the casserole with chopped parsley and put sour cream and olives. You can serve the casserole with slices, meat, sausages... etc...
11 . Stage
Let's eat! It's delicious!