13.09.2022
12
Recipe information
Servings per container:
2
Cooking
1 . Stage
We make berry mayonnaise. In a glass of a blender put the egg, add salt, sugar, mustard and beat with a blender. When the mass is whipped, start pouring olive oil in a very thin stream, continuing to whip. The mayonnaise will become thicker and thicker as the oil is added. In a separate bowl, crush the berries with a blender (you can add a little water). Then pour into the glass of the blender with the mayonnaise and mix thoroughly with the blender. Pour into the bowl
2 . Stage
Grate lemon or lime zest and add to the mayonnaise
3 . Stage
Finely chop the mint and add it to the mayonnaise.
4 . Stage
Mix the mayonnaise thoroughly - until the zest and mint are evenly distributed
5 . Stage
Take the raw shrimp. Peel the shells and remove the oesophagus by notching them along the back
6 . Stage
Put the shrimp in a ziploc bag with finely chopped garlic and two spoonfuls of olive oil. Cook in the Sous-Vide for 30 minutes at 57° C. If you don't have a Sous Vide, you can fry them in a pan with olive oil and garlic. It's important not to overcook, otherwise they will be rubbery - fry for 1 to 2 minutes - until red and translucent.
7 . Stage
Prepare the batter for the pancakes. In a bowl let out the egg, add flour, sugar, salt and olive oil. Stir it. Dilute with water to the consistency of thick sour cream. Add milk and bring to the consistency of kefir. The batter should be a little thicker than for ordinary pancakes, because the pancakes should be a little thicker - not to tear
8 . Stage
Heat a skillet well, grease with olive oil for frying and pour a portion of batter. Bake the first side.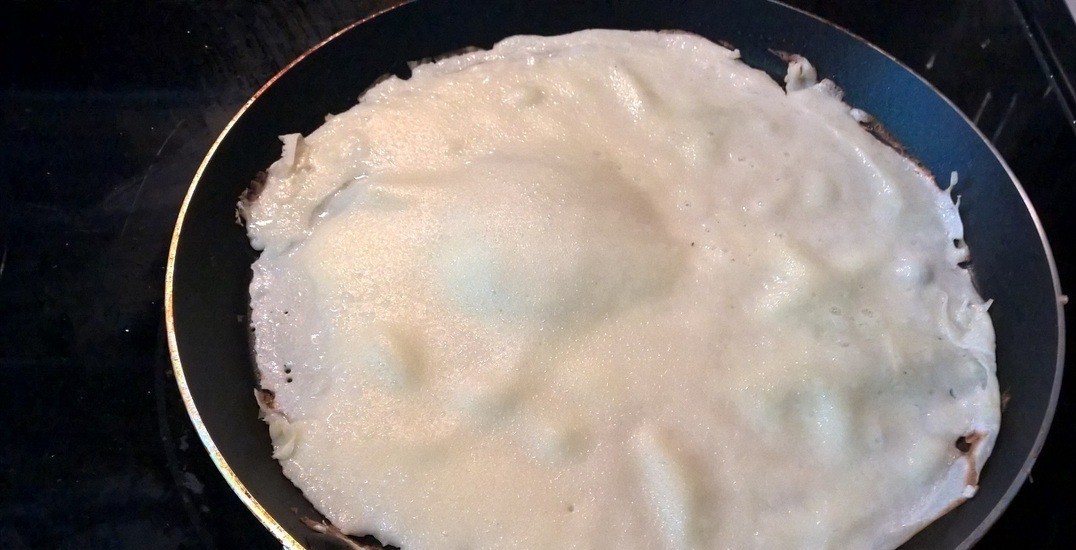 9 . Stage
When the first side is done, flip to the other side and brown the second side - faster than the first, because the pancake is almost done. Remove the pancake and bake another 3
10 . Stage
Cut cooked shrimp into 1 - 1.5 cm pieces and place in a bowl. Peel the avocado and cut into 1 - 1.5 cm pieces, add to the shrimp. Cucumber and tomato also cut into 1 - 1.5 cm pieces and add to the bowl.
11 . Stage
Fill the stuffing with mayonnaise and mix.
12 . Stage
Place the filling on the pancakes and roll up into tubes.
13 . Stage
Place the pancakes on an auxiliary plate.
14 . Stage
Serve by cutting the pancakes in half, adding thinly sliced tomatoes and garnishing with herbs - or whatever you like