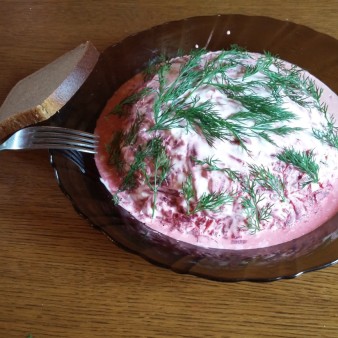 18.09.2022
8
Recipe information
Servings per container:
8
Cooking
1 . Stage
We put to boil beets and barley. Meanwhile, grate pepper and cucumber on a coarse grater.
2 . Stage
Perlovka is ready in 20-25 minutes. We take 3 tablespoons of mayonnaise. Squeeze 3 cloves of garlic in the mayonnaise and add 1 tbsp of boiling water to make a sauce. Transfer to the pearl millet and stir again.
3 . Stage
In a salad bowl put the first layer of barley.
4 . Stage
Then a layer of carrots in Korean.
5 . Stage
Combine the pepper and cucumber, add 1 tablespoon of mayonnaise, stir, lightly squeeze with a spoon.
6 . Stage
Place a layer of vegetables.
7 . Stage
I used sprats in jelly, not in oil.
8 . Stage
Lay out a layer of fish.
9 . Stage
Then the beets, grated on a coarse grater.
10 . Stage
On top, spread 2 tablespoons of mayonnaise. And repeat everything again, except the layer of carrots, it is enough 1 layer. Decorate at your discretion and place in the refrigerator for 2-4 hours. When the salad has infused, serve.