Recipe information
Cooking
1 . Stage
The hero of the process...
2 . Stage
The catfish is gutted and dressed as in the photo...
3 . Stage
The middle part is cut into portions, dried on napkins and sent to the refrigerator. Since broth is not a quick thing, I advise you to cover the bowl with the pieces with clingfilm...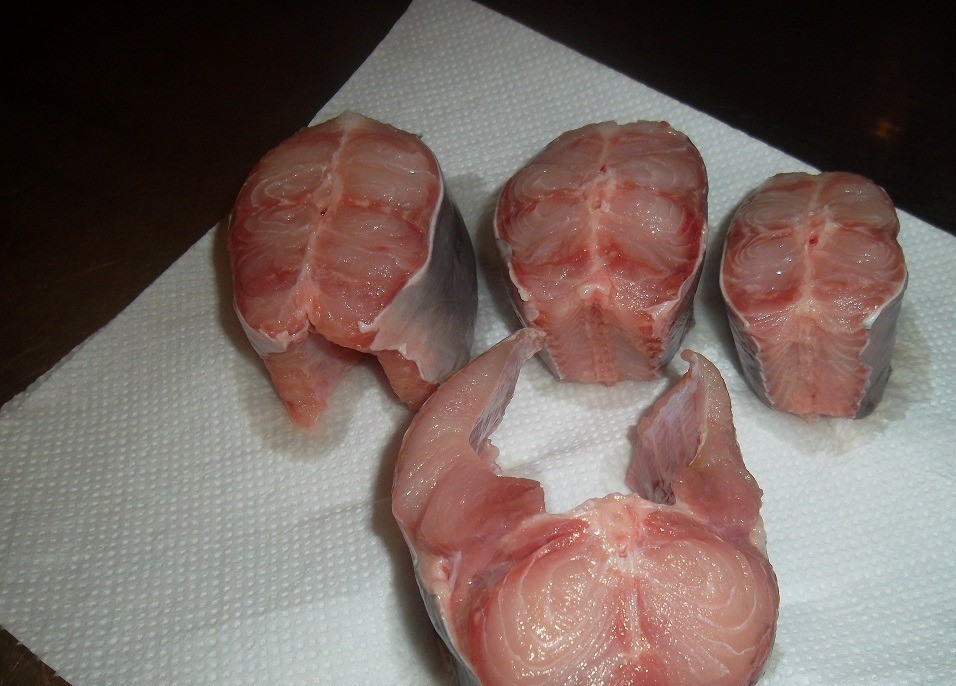 4 . Stage
All the rest, along with onions and roots, we load into a saucepan, pour water and bring to a boil over high heat. Take off the noise, reduce the heat to minimum, throw the pepper and bay and leave to simmer for 2.5 ... 3 hours.
5 . Stage
Pour oil into a frying pan and fry diced onions until "glassy"...
6 . Stage
Add cucumbers, also diced, and fry for about 5 minutes. If the cucumbers are large, it is better to peel them and remove the seeds. We usually do not cover large cucumbers, so there is no point in doing this...
7 . Stage
Then the mushrooms - 7...10 minutes. You can take different mushrooms. If dry - soak and boil beforehand, if common mushrooms - just chop them not finely. I had these. I didn't even chop them, as they are quite small...
8 . Stage
Pour in the tomato and stew until the excess liquid evaporates. A couple of words about the tomato: if I use homemade juice rather than paste, I slightly evaporate it in a separate (dry) pan to speed up the process. And if the paste - on the contrary, I slightly dilute the broth...
9 . Stage
Dice potatoes and carrots.
10 . Stage
Combine in a pot of potatoes, carrots, roast, pour the strained broth, bring to a boil and cook over low heat until the potatoes and carrots are soft. Taste and season with salt to taste, if necessary. Add portions of fish, cook for 12 ... 15 minutes, squeeze out the garlic and remove from the heat...
11 . Stage
Let it steep and pour it on the plate ... Bon Appetit!!!