15.09.2022
12
Recipe information
Servings per container:
2
Cooking
1 . Stage
We make the batter for one egg pancake. From one pancake we get 2 pieces of Christmas trees. The pancake for the Christmas trees I make a D-24 cm. You can make it smaller and the Christmas trees will be smaller. We break the egg, pour the milk, put the starch, salt and fork to combine everything without lumps. Chop the dill finely and add it to the dough, mix it. The dill will remind us of the needles on the Christmas tree.
2 . Stage
Fry the pancake. My pan doesn't require grease and I didn't grease it. The pan can be greased. The pancake is made very quickly and flips perfectly. I fry it on both sides.
3 . Stage
This is how it turned out. The back side of the pancake will be the front side. You can see more of the dill on it.
4 . Stage
Cut the pancake in half into 2 Christmas trees. We turn it over on its front side.
5 . Stage
Spread with mayonnaise to taste. Mayonnaise can be replaced with cottage cheese or soft cheese for children.
6 . Stage
Place the lettuce leaf on top of the mayonnaise. Lay out so that the "skirt" of lettuce looks out from under the pancake. Put a crispy straw or something else on the sheet. You can black bread crumbs straw. I had "Merchant's" Belebey cheese in the slicing, and I cut a slice diagonally.
7 . Stage
Lay out a triangle of cheese. On top of the cheese-sausage or whatever you want!
8 . Stage
Tuck the edges of the pancake like this. Form the second Christmas tree.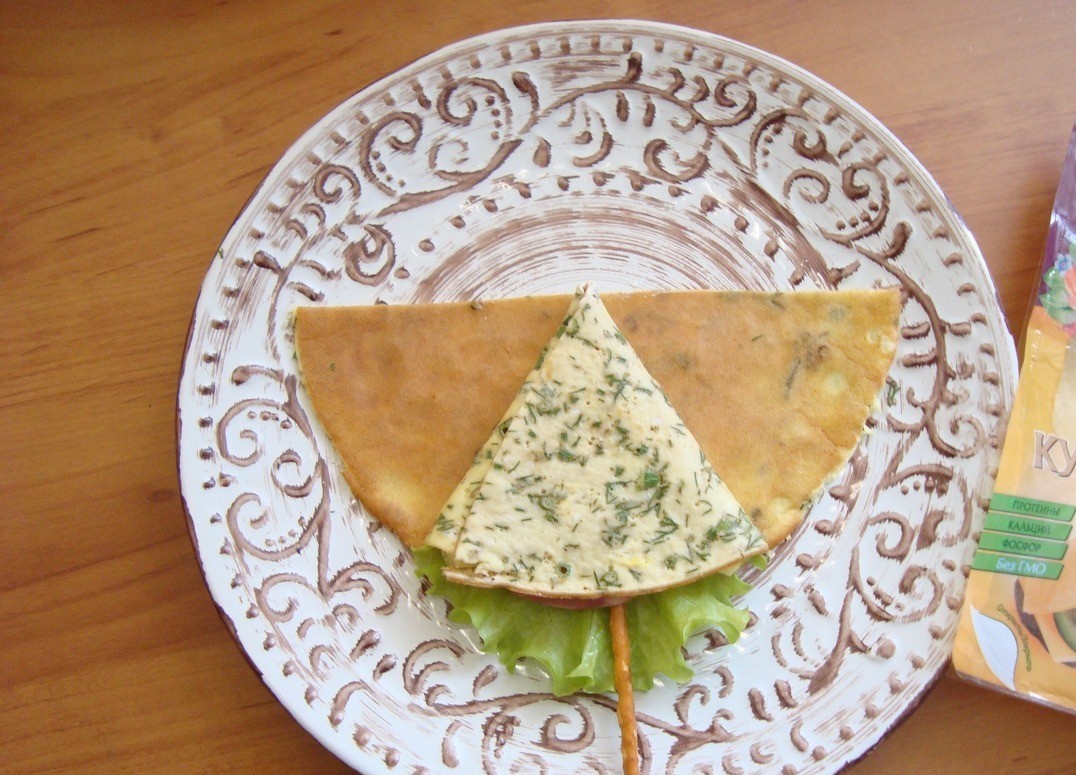 9 . Stage
Turn the Christmas tree and decorate according to your taste and preference. The top of the Christmas tree should be smeared with more mayonnaise or cheese and sprinkled with dill again-that's the needles. I decorated it with olives, bell peppers and leeks. I put mayonnaise on the stem - it's a Christmas tree standing in the snow.